Help us learn about a new model of care to support Black families through pregnancy and postpartum at UI Health.
In Chicago, pregnancy-related mortality rate is 6x higher for non-Hispanic Black women compared to non-Hispanic white women – this disparity is a direct consequence of structural racism and historical neglect of Black communities.
Melanated Group Midwifery Care (MGMC) addresses the impacts of structural racism by centering the expertise and needs of Black women and birthing people to better understand how we can foster healthier birth outcomes for all families.
What is Melanated Group Midwifery Care (MGMC) project? Heading link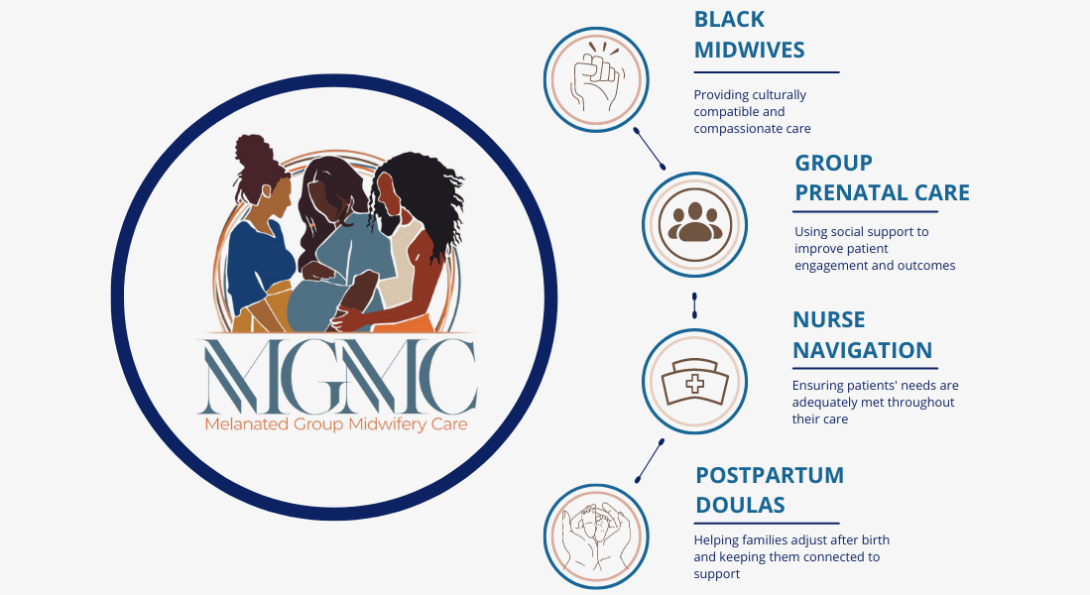 The MGMC project is an effectiveness (does it improve outcomes) and implementation (why does it work/not work) trial comparing usual care to a new care model.
If people agree to participate, they will be randomly (like flipping a coin) be assigned to the usual care model or the MGMC model. By comparing care experiences, we will learn which care model may be best for Black families and why. We will compare usual care to MGMC care.
Usual Care

The standard care package of UI Health in which parents individually determine their care experience.

MGMC Care

A package offering care from a Black team of midwives, nurse navigators, and postpartum doulas in the form of group prenatal and postpartum doula care.